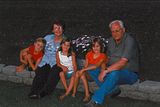 Is it possible that it's been almost 6 months since you left? In a strange way it seems like I was just talking to you and yet it also feels like it's been a lifetime. How is that possible? I never got to tell you, because of course we couldn't have known at the time, that the last conversation I had with you was your greatest gift to me.
It was December 27, I was getting ready to run out the door when you called. I was busy with life and the kids and at the time was wanting the conversation to be quickly over because I thought I had more important things to do.
But you didn't notice. You never noticed how distracted I could be. That used to always make me crazy but I am so glad you didn't notice this time.
I can still hear your voice. I am so glad for that.
You got right to the point because you had something you needed to tell me. True to your style, you didn't segway into what was on your heart. That used to bother me, but I learned that was just your way; the uniqueness of you.
Your last words to me are written on my heart -the greatest kindness. I want you to know that.
Here is what you said, I know you remember, but time here has a funny way of slipping away - you know that too. I must write your words down because I don't want to forget. I must never forget.
"I just want to tell you how much I love you and how proud I am of you, honey. I want you to know I couldn't be more proud of you. The way that you and Jim are raising your children to love God makes me so happy. There is nothing that could make me happier than to know that you are raising up your children, my grandchildren, to know and love the Lord. I want you to know that those years after your mom died were tough years, but they were also wonderful years with you girls. Those high school years with you and Cheri are some of my most precious memories. I think back to the trips we took together and they just have meant so much to me. I just wanted you to know that. Lori, I love you. "
I told you I loved you. I told you how thankful I was for your words, how much we were looking forward to our visit - only one week away now. We would all be together, with Cheri, to celebrate a belated Christmas. We would celebrate your birthday and Brooke's too. I had to go but would call before we left for our visit. "Thanks dad, love you."
"Love you too."
I thought about the strange wonderfulness of the conversation all the next day. It was so out of the blue - but that was how you tended to be. We were gone all day, didn't get home until late - no chance to get a phone call from you or to you that day.
The next day Sandy left early for work. You were sleeping when she left; December 29th.
I was entertaining company when the call came.
I always thought I would somehow know the minute you left - that I would feel the absence of you; but I didn't. What was I doing when you crossed from this side of the veil into the next? What was that glorious moment like for you? How could I not feel your journey from this home to that one; your long awaited home. How could my soul not sense you seeing mom after 28 years, or seeing grandma again?
You were gone. It happened sometime in the morning. You were fine and then you were gone. I wasn't ready for that. You were only 67. We were all supposed to be together the next week - we were together, all of us, just not how I planned.
You would have been proud of Cheri and me. And of Sandy, oh dear Sandy. She loved you so well and felt your loss so hard. I know you would have wished it different for her sake. You would have been proud of Shawn and Lisa - how they loved her through it all.
I attended to the details - the myriad of details. I was so thankful for the job. It was a beautiful service - I thought I felt you there when I spoke. Were you allowed to glimpse it? I believe you were, but absent of sorrow somehow.
I loved you in those details. I know you know that. It was my last act of love to you. It was all I had left. When there were no details left and you were gone, I mourned.
I really only wanted to tell you how much that last conversation meant to me. How often I have said to myself, I will never doubt God's love for me again, because He allowed me that final conversation, the blessing I could have never asked for, that you freely gave. Everything a daughter would want to hear said - I heard from your lips.
Thank you daddy.
I feel your absence and miss you dearly,
Your Lori